GRDC unveils Grains Australia Ltd to consolidate a range of industry services and functions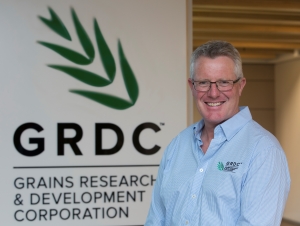 The Australian grains industry has agreed on a way forward to deliver industry good services and functions on behalf of the entire grains supply chain.

Grains Research and Development Corporation (GRDC) Managing Director Dr Steve Jefferies said a new company, to be known as Grains Australia Ltd (GA), would consolidate a number of important industry good functions.
"This is an exciting development that will result in significant benefits to the Australian grains industry, including more efficient industry operation, improved connectivity across the value chain and improved industry influence in domestic and global forums," Dr Jefferies said.

The formation of GA is led by a Steering Committee comprised of Grain Growers Ltd, Grain Producers Australia, Grain Trade Australia and GRDC.

The constitution has been finalised and a search is underway for Directors of the skills-based GA Board. The inaugural GA Directors will then appoint a CEO.

GRDC is currently the sole member of GA and will be providing 100% of the initial funding. It is anticipated that grains industry participants will be active contributors to the operations of the company through involvement on committees, councils and working groups.

Industry good functions are those services that deliver net benefit to the industry overall. The functions can benefit public and private entities, or a combination of both, but do not create or add to market failure.

GA's core functions will be:
To establish and maintain a grain variety classification system
To provide services that maintain and improve trade and market access
To develop long term market and consumer analysis and product awareness to support longer term demand and value creation
To ensure technical support and training is available for customers of, and participants in the Australian grains industry
Dr Jefferies said it the formation of GA would result in the streamlining of many of the functions currently delivered by a number of separate organisations.

"The industry has been working towards this goal for several years. With the new structure in place, it will be up to the new Board and management of GA to continue discussions with all relevant organisations to determine which industry-good functions transition into the new model."
Contact Details
Contact
Toni Somes, Communications Manager North
0436 622 6445
toni.somes@grdc.com.au
YOUR FEEDBACK

To protect your privacy, please do not include contact information in your feedback. If you would like a response, please
contact us.