Agtech innovation initiatives
The Business Development team manages a number of Agtech innovation initiatives. Our innovation strategy is aimed to deliver more impact to grower profitability through improved targeting and support of the ag-tech start-up innovation ecosystem. These programs aim to address different unmet needs in the innovation process.
These programs include:
Growers as Innovators
our Accelerator Program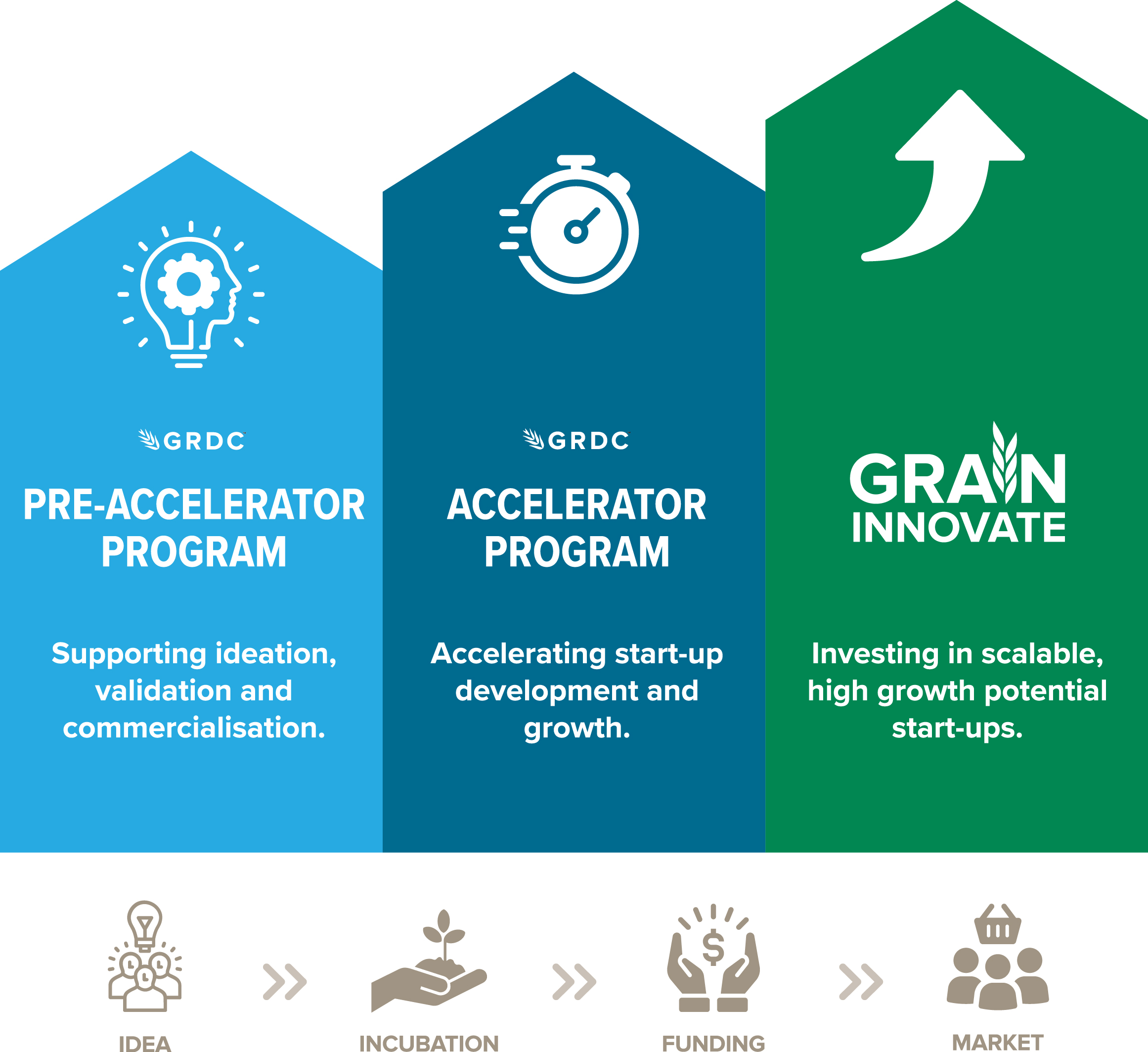 ← scroll →
The $50 million GrainInnovate fund was established by GRDC and Artesian. It was launched in February 2019 and invests in start-ups to help drive the future profitability and sustainability of Australia's grain growers.

The Fund invests from seed to growth stage in start-ups from Australia, and globally, that fit the fund's investment mandate, which is based on our RD&E Plan 2023-28.

The fund has invested in 21 start-ups to date.

For more information about the fund and investee companies, visit the GrainInnovate website.

Our Pre-Accelerator Commercialisation Program, and Accelerator Program supports new innovative ideas and start-ups within the grains industry through non-exclusive partnerships with delivery partners.

Expanding on the success of the Growers as Innovators program delivered by Farmers2Founders, the GRDC Pre-Accelerator Commercialisation Program aims to support innovative growers, researchers, students, and entrepreneurs in market-testing novel ideas before potentially bringing them to market.

The Accelerator Program supports start-up development and growth within the grains industry through partnership with agtech accelerators. To date GRDC has non-exclusively partnered with seven accelerators across Australia for the delivery of industry focussed programs, supporting over 40 start-up journeys.

Requests for Proposals from eligible Pre-Accelerator Commercialisations Program and Accelerator Program delivery partners are periodically open.

For more information about our Pre-Accelerator Commercialisation Program, and Accelerator Program request for proposals.
Please contact the Business Development team [email protected] for more information on these programs.
GRDC Launches AgTech Venture Capital Fund
Read more via GroundCover:
YOUR FEEDBACK

To protect your privacy, please do not include contact information in your feedback. If you would like a response, please
contact us.