New and improved GRDC weed ute guide now available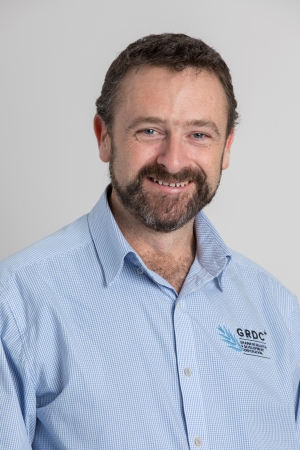 Accurately identifying weeds is a key part of effective management and now a handy new resource from the Grains Research and Development Corporation (GRDC) could help make the task easier for growers and agronomists.

The GRDC has just released the first Common Weeds of Grain Cropping: The Ute Guide, available as a hard copy or digital manual, for the most key weeds impacting our farming systems. This national version replaces the former regional and seasonal weed ute guides.
GRDC Manager Weeds, Jason Emms said the new and improved national guide was developed in response to calls from industry for a practical, easy-to-access tool for weed identification in the paddock.

"Weed management is one of the toughest challenges facing Australian growers and costs them an estimated $3.3 billion every year," Dr Emms said.

"Correct identification of weed species is critical for effective management and this guide aims to help support those working in the paddock.

"This time we have opted for a comprehensive national guide, due to the capacity of weeds to evolve, adapt and move into new geographic locations and because many weeds are no longer just summer or winter problems."

Dr Emms said the new ute guide was a larger format and included descriptions and images of weed species through a range of growth stages.

"This guide is designed for relatively rapid weed identification in the paddock, so we tried to select more than 120 of the most common weeds in Australian cropping systems. Obviously, it is impossible to include all weeds in a single publication," he said.

"In response to feedback from industry we have made sure we have print versions of the ute guide available, so in areas with connectivity challenges, growers and their advisers can keep a copy in their vehicles.

"To ensure the guide is also very practical we have made a point of putting weed species that are closely related and difficult to physically distinguish on the same page, such as hairy panic (Panicum effusum), Hillman's panic grass (Panicum hillmanii) and witch grass (Panicum capillare)."

Dr Emms said the guide was intended solely as an identification tool and that for control and management information growers should contact their local adviser or refer to the GRDC manual Integrated Weed Management in Australian Cropping systems.

Growers, advisers, students and researchers can order copies of the Common Weeds of Grain Cropping: The Ute Guide free of charge, although there are standard postage and handling charges of $10 per copy. Where more than one copy or bulk quantities are ordered the postage and handling cost will reflect the weight of the order.

To order copies of this ute guide free-call 1800 11 00 44 or email: ground-cover-direct@canprint.com.au and quote GRDC Order Code- GRDC1331.
Contact Details
Contact
Toni Somes, GRDC Communications Manager – North
0436 622 645
toni.somes@grdc.com.au
GRDC Project code: ARN00003; COR1909-005SAX; HEU1909-001SAX
Tweet
YOUR FEEDBACK

To protect your privacy, please do not include contact information in your feedback. If you would like a response, please
contact us.