Best practice key to keeping insecticide resistance in check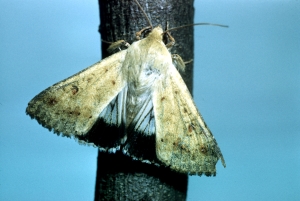 New surveillance data monitoring Helicoverpa insecticide resistance has shown a general decline in resistance levels for 2019-2020, but a leading researcher is warning growers and advisers against complacency.

Each year the New South Wales Department of Primary Industries (DPI) with support from the Grains Research and Development Corporation (GRDC) conducts a resistance surveillance program in the major cropping regions of the Upper Namoi, Lower Namoi and Gwydir regions in NSW and on the Darling Downs, Macintyre, Dawson/Callide, Emerald and Clermont areas of Queensland.
The program aims to provide regionally specific information to assist growers to optimise the cost of effectively and sustainably managing Helicoverpa armigera.

H. armigera is a pest of many commodity crops including pulses, oilseeds, coarse grains and winter cereals. But crop damage from this pest is more significant in summer and winter pulses, maize, sorghum, canola, linseed, safflower and sunflowers.

NSW DPI research scientist Lisa Bird said the latest surveillance samples taken in 2019-2020 showed general resistance has declined to the two key insecticides in the pulse industry: chlorantraniliprole and indoxacarb.

However, she clarified this was most likely due to recent severe drought conditions, which reduced the size of the chickpea crop and thus reduced selection for insecticide resistance in the Helicoverpa population.

"This is positive, but it is important to understand the context and not become complacent, keeping front of mind the importance of best practice to keep resistance risk at a minimum," Dr Bird said.

"H. armigera has a strong track record for developing resistance in response to selection pressure from insecticides.

"Although resistance to chlorantraniliprole and emamectin benzoate remains low it is highly likely that resistance will increase rapidly due to selection pressure if there is over-reliance on these products."

Dr Bird said the latest surveillance data has shown indoxacarb resistance has declined in spring cohorts of H. armigera from Central Queensland in 2019-20 compared with the previous season.

However, some regions in Central Queensland are still recording higher resistance levels than the industry average. Average indoxacarb resistance across the grains industry is 5.8 per cent compared with 8.8% in the Emerald Irrigation Area and 9.1% in the Burdekin region.

But she warned that research showed there was still a high risk for indoxacarb resistance to redevelop in the region.

"Growers can't afford to become complacent. They need to continue to use best practice management with H. armigera to minimise the risk of resistance increasing to levels that result in spray failures," Dr Bird said.

"Indoxacarb and chlorantraniliprole are of particular concern because they are pivotal insecticides across a range of farming systems and are now at increased resistance risk from over-use in the pulse industry."

In response to this, a grains industry resistance management strategy (RMS) has been developed and is based on best practice product application and usage restrictions to minimise selection pressure from the same chemical group across consecutive generations of H. armigera.

Snapshot of 2019-2020 results:

Emamectin benzoate: No insects have tested positive for resistance.

Chlorantraniliprole: No resistance so far in samples collected from chickpea paddocks in Central Queensland (CQ) and mungbean paddocks in northern Queensland.

Indoxacarb: A significant reduction in resistance in samples collected from chickpea paddocks in CQ and mungbean paddocks in northern Queensland. This is likely due to reduced plantings of winter pulses as a result of ongoing drought conditions in eastern Australia. However, resistance remains slightly higher than the industry average in the Emerald and Burdekin regions.

Tips to minimise resistance development:
Comply with product label directions – do not cut rates or exceed the recommended applications per crop per season.
Avoid repeated use of insecticides from the same chemical group.
If a spray fails due to resistance or an unknown cause, do not re-spray in the same season using a product from the same chemical group.
Where possible, use target-specific 'soft' chemicals rather than broad-spectrum pesticides.
Correctly identify the pest to ensure the most effective insecticide and rate is use.
Monitor beneficial populations to determine if chemical control of Helicoverpa is warranted.
Consider the impact on all species present when applying insecticide sprays.
Ensure spray rigs are calibrated properly and sprays achieve good coverage.
Monitor post-treatment for evidence of loss of field efficacy and report field failures.
For more information download a copy of the RMS fact sheet

Or listen to Queensland Department of Agriculture and Fisheries (DAF) senior entomologist Dr Melina Miles discussing H. armigera
Podcast

Melina Miles, offers us an insight into her research and explains why the Helicoverpa Resistance Management Strategy is so important to the future security of the pulse industry

Date: 19 Dec 2018

Your browser does not support this audio player. Please use your smartphone or other device or contact GRDC for an alternative way to listen.
GRDC Project code: DAN00164
Tweet
YOUR FEEDBACK

To protect your privacy, please do not include contact information in your feedback. If you would like a response, please
contact us.