Grower Forums boost targeted research, development and extension in Central Queensland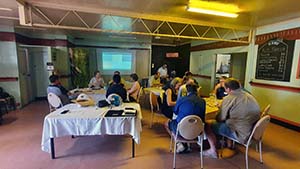 A pleasing number of growers and advisers attended the Grains Research and Development Corporation's (GRDC) first National Grower Network (NGN) events in Central Queensland earlier this month.
The GRDC hosted two NGN Grower Forums in Clermont and Jambin to give key stakeholders the chance to discuss the opportunities and challenges of the grains industry specific to their region.
GRDC Grower Relations Manager – North, Richard Holzknecht, said the grower forums were crucial to ensuring the GRDC continued to develop regionally relevant investments that delivered improvements in the productivity and profitability of Australian grain growers.
"The forums are about offering a face-to-face opportunity for growers to discuss industry opportunities and constraints with GRDC," he said.
"The local experience and insight provided by growers and advisers at the forum is used by GRDC to develop targeted and regionally relevant research, development and extension (RD&E) investments and communications."
The key areas of interest raised by growers at the forums included the integration of optical and camera spraying systems on-farm, the value of cover cropping, understanding nutritional strategies, and managing the implications of 2,4-D and glyphosate antagonism on broadleaf and grass weed species.
University of Queensland Chair in Tropical Agronomy, Michael Bell, spoke about effective nitrogen strategies at the forums, including how to manage nitrogen loss, the advantages and disadvantages of surface and drill application, application rates and the importance of timing to ensure nutrient availability.
Professor Bell also discussed recent research regarding deep phosphorus (P) and potassium (K) and the need to match with appropriate nitrogen levels to maximise yield potential.
Mr Holzknecht said the discussions at the forums help guide and inform potential opportunities for GRDC's RD&E investment. The forums also offer GRDC the opportunity to share details of current investments and discuss how these could be adjusted to provide greater impact for the grains industry.
"The forums focused on improvement opportunities with growers and advisers and brainstorming how our RD&E could help them become more efficient on-farm," he said.
"We also talked about current GRDC investments, such as research into mungbean agronomy, long coleoptile wheat and winter sowing of sorghum and how we could make these projects more targeted."
"The NGN has been developed to create a touchpoint for industry to connect directly with GRDC so I strongly encourage growers to get involved and take advantage of the opportunity to influence world-class research that betters their industry."
The GRDC will be running a range of NGN Grower Forums across Queensland and New South Wales in 2022. To stay informed of dates and times please visit the GRDC events page.
Contact details
Contact
Toni Somes, GRDC
0436 622 645
Toni.somes@grdc.com.au
YOUR FEEDBACK

To protect your privacy, please do not include contact information in your feedback. If you would like a response, please
contact us.