Listen and learn: practical pulse growing explained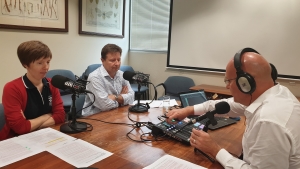 A new podcast series and workshop webinar recording are providing practical insights into boosting nitrogen fixation in pulses for growers and advisers.

The Grains Research and Development Corporation (GRDC) Boosting On-Farm Nitrogen Fixation in Pulses podcasts and webinar cover some of the essential information to consider when inoculating pulses with rhizobia.
The podcasts are split into four informative instalments covering pre-sowing inoculation of pulses, in-season nodulation assessment, the impact of acid soils on nodulation and tips for best practice dry sowing when inoculating.

Meanwhile, the recording from an online pulse workshop held recently to replace the previously planned workshop series across South Australia and Victoria, provides a more detailed guided talk on best practice pulse growing.

Researchers Liz Farquharson and Ross Ballard from Primary Industries and Regions South Australia's research division, the SA Research and Development Institute (SARDI), highlight the nitrogen fixation benefits from growing pulses, and discuss tactics that can help growers optimise the nodulation of pulse crops.

Mr Ballard says the podcast series and webinar complement existing GRDC inoculation resources and guides the listener through key factors that can affect the success of the process.

"Inoculation and pre-sowing preparation can set you up to fix a lot of nitrogen in a good season if you make the right decisions," he says.

"However, there are some key considerations around inoculation, including dry sowing and acid soils, that we're able to explain and expand on in these podcasts.

"In-season nodulation assessment is also important to understand if inoculation was successful and we talk the listener through how and when to make a nodulation assessment."

The podcasts can be listened to via:
To watch the webinar recording, visit the GRDC YouTube Channel
Contact Details
For Interviews
Bridget Penna, AgCommunicators
0429 676 413
Contact
GRDC Adelaide office Communications Manager – South
(08) 8198 8400
media@grdc.com.au
GRDC Project code: 9176601
YOUR FEEDBACK

To protect your privacy, please do not include contact information in your feedback. If you would like a response, please
contact us.