Opportunity For Profit - Management Guideline (Multiple regions)
Published: 20 Feb 2018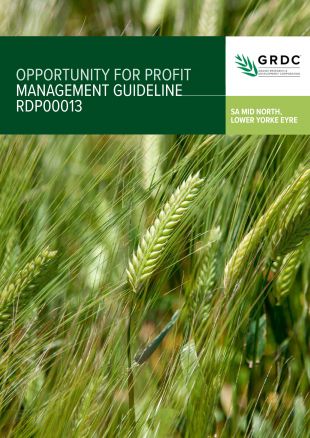 This Management Guideline is a summary of outputs completed within the GRDC Project RDP00013 'The integration of technical data and profit drivers for more informed decisions'. This national project is being delivered across all 14 major grain growing agro-ecological zones in Australia through the collaborative partnering of five consulting organisations.
The Management Guideline aims to assist growers to understand key drivers of profit in their agro-ecological zone, and compare their business to benchmarks in order to identify areas of potential development. In addition, there is scope to assist growers in implementing effective strategies to improve efficiencies and boost business financial performance. There is evidently a distinction between knowledge of technical data and the implementation of this data between the Top 20% business and the average business. This has been a focus point in the development of this Management Guideline.
A consistent message from the project is that in each agro-ecological zone there exists a large gap in financial performance between the Top 20% businesses and the average business. There appears to be genuine opportunity for many grain growers to increase profit from the resources that they currently have available to them.
This particular guideline has been prepared by Corporate Agriculture Australia Pty Ltd on behalf of the Grains Research & Development Corporation.
Please Note: A detailed description of the profit drivers and analysis can be found in the major report 'RDP00013: The integration of technical data and profit drivers for more informed decisions'.
Link to this publication
Use https://grdc.com.au/opportunity-for-profit-management-guideline to ensure your link remains current and up-to-date!
Table of contents
Region: South; West
GRDC Project Code: RDP00013
YOUR FEEDBACK

To protect your privacy, please do not include contact information in your feedback. If you would like a response, please
contact us.