GRDC Grains Research Update Perth 2020
Presented at:
24th Feb 2020

to

25th Feb 2020
This page contains update papers presented at the GRDC Grains Research Update (Perth).
Browse all update papers below or click Download PDF.
Use the media tab to view presentation materials from the event such as power points, images or videos and other media.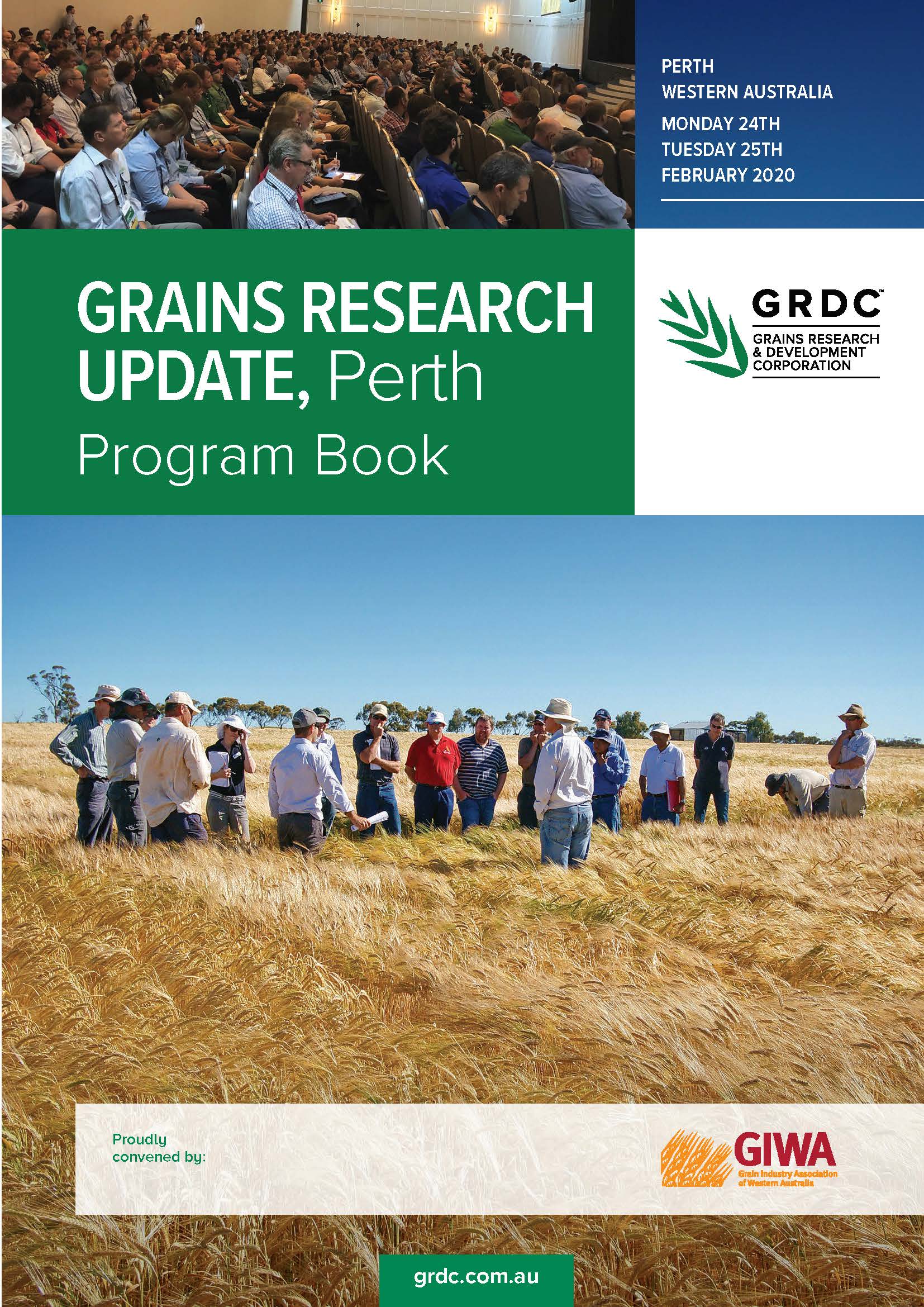 Presented at GRDC Grains Research Update (Perth)
To provide industry with a summary of the performance of recently released pulse varieties; highlight some of the promising lines evaluated in early generation experiments and update growers and consultants on products and agronomy packages to maximise pulse production in Western Australia (WA)....

Western Australia produces about 60 per cent of Australia's wheat exports. Foliar diseases remain a concern in wheat production and breeding for disease resistance is crucial to reduce yield vulnerability....

The GRDC national paddock survey project (BWD00025) of 250 paddocks for four years was designed to understand the basis behind the yield gap and generate the data necessary to construct a yield gap calculator....

This work aims to create a reliable estimate of percentage nitrogen (%N) in a wheat crop, using sensors and machine learning, to inform an in-crop application of nitrogen (N) fertiliser....

In Australia, herbicide resistance has increased in several major weed species such as annual ryegrass and wild radish. Single and multiple resistances have evolved to several modes-of-action in foliar post-emergent herbicides, which has compromised their efficacy....

The key to successful weed management is long-term reduction of the weed-seed bank. However, this requires an understanding of how long the seed bank lasts, which can be influenced by ecotypic differences between weed populations or the environment of the plant producing the seed....

Trials done in South Australia suggest lime affects the fecundity of round snails (vineyard snail Cernuella virgata and white Italian snail Theba pisana) by increasing the number of eggs laid and subsequent snail survival (M. Nash pers. comm)....

In December 2019, GrainGrowers released the report "Gains in grains – is Australia producing the most profitable quality of wheat?" The report was delivered by independent agriculture consultancy firm groIQ (Dr Richard Williams) and assesses whether Australia is producing the most profitable wheat quality and how the nation's industry structures an...

Farmers and agronomists make pre-emergent herbicide decisions based on numerous factors including compatibility with their sowing program, control spectrum and price....

Seven trials were implemented in 2015 with the primary aim of evaluating the financial viability of new deep-ripping methods. It was hypothesised that the financial return from ripping would be increased by ripping to a greater depth using topsoil slotting and implementing a controlled traffic farming (CTF) system to improve longevity of the rippin...
YOUR FEEDBACK

To protect your privacy, please do not include contact information in your feedback. If you would like a response, please
contact us.