GRDC Grains Research Update Perth 2020
Presented at:
24th Feb 2020

to

25th Feb 2020
This page contains update papers presented at the GRDC Grains Research Update (Perth).
Browse all update papers below or click Download PDF.
Use the media tab to view presentation materials from the event such as power points, images or videos and other media.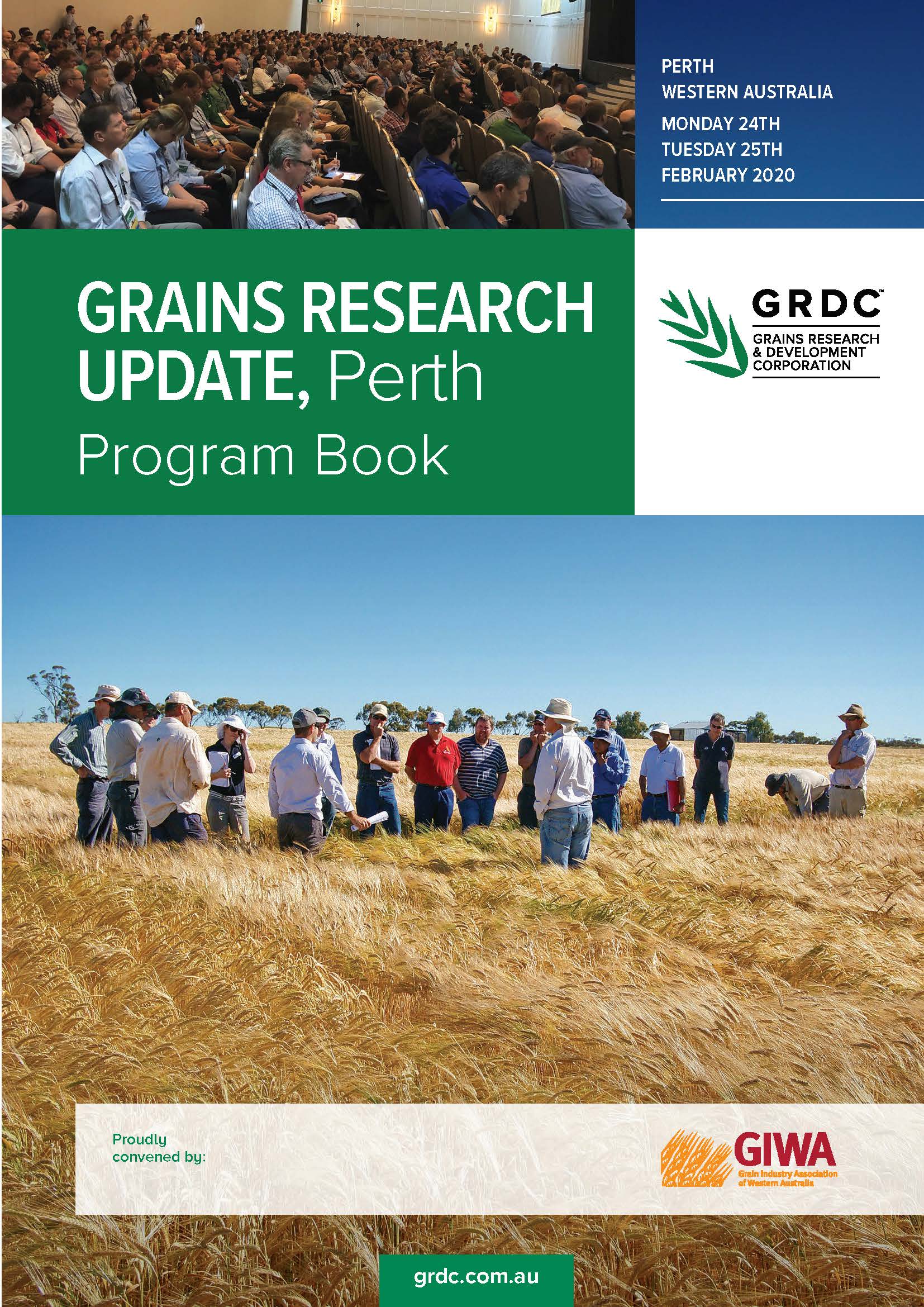 Presented at GRDC Grains Research Update (Perth)
To provide industry with a summary of the performance of recently released pulse varieties; highlight some of the promising lines evaluated in early generation experiments and update growers and consultants on products and agronomy packages to maximise pulse production in Western Australia (WA)....

Farmers and agronomists make pre-emergent herbicide decisions based on numerous factors including compatibility with their sowing program, control spectrum and price....

The aim of this study was to determine the loss in wheat yield due to competition from five new emerging winter weed species in Western Australia. The extent of yield losses due to weeds depends on their density, time of emergence and species....

The work was conducted to improve the heat tolerance of Australian wheat. Heat tolerant germplasm, protocols for high-throughput screening and molecular tools to assist commercial wheat breeders were developed....

Two-year rotation trials were implemented at Calingiri, Dumbleyung and Grass Valley to investigate the most effective and profitable break crops in rotation with cereals (wheat) for growers with RLN and R. solani in the same paddock....

• Determine if deep tillage improves root growth and yield of crops on pale, deep sand that has been previously ameliorated with the incorporation of clay-rich subsoil to a depth of 300mm....

Western Australia produces about 60 per cent of Australia's wheat exports. Foliar diseases remain a concern in wheat production and breeding for disease resistance is crucial to reduce yield vulnerability....

Brome grass and barley grass are ranked as the fourth and ninth most detrimental weeds nationally, with an annual revenue loss of $22.5 and $1.7 million respectively....

Seven trials were implemented in 2015 with the primary aim of evaluating the financial viability of new deep-ripping methods. It was hypothesised that the financial return from ripping would be increased by ripping to a greater depth using topsoil slotting and implementing a controlled traffic farming (CTF) system to improve longevity of the rippin...
YOUR FEEDBACK

To protect your privacy, please do not include contact information in your feedback. If you would like a response, please
contact us.