Lentil Western Region - GrowNotes™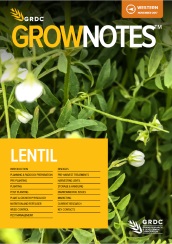 In Australia, lentil is predominantly grown in the semi-arid regions of South Australia and Victoria. Small areas of lentil are now being grown in southern New South Wales and Western Australia. Australia is a significant producer of red lentil, however the area in planted to green lentil is gradually increasing, as are the speciality types. Lentil fits well into cereal-based cropping systems.
Region West
Sorry about that
How can we improve it?